Welcome to Ballcardz.com!
Cards of all your favorite players; from A to Z!
| | |
| --- | --- |
| Baseball Cards | Autographed Cards |
| Hall of Fame Cards | Ken Griffey Jr. Cards |
While Ken Griffey, Jr. baseball cards make up the majority of our inventory, you can still find cards of your favorite players! With baseball cards of over 5,000 players, including autographed and game-used memorabilia cards, Ballcardz.com is excited to present the baseball card section of our site. Check it out! If you can't find what you're looking for, just use the search feature above.

Our baseball card singles are the perfect gift for any collector. Find that last card to complete your set. Get cards to obtain autographs either in person (IP), or through the mail (TTM). Create a stunning display using cards of your favorite player. No matter what the reason, Ballcardz.com is the best place to buy high quality singles of your favorite player's baseball cards.

If you're not looking for baseball cards, we also have football cards, basketball cards, hockey cards, patriotic cards, non-sport and comic cards, as well as cards from other sports such as racing, boxing, soccer and golf, just to name a few. Knowing that we can ship your favorite cards to nearly anywhere in the world, what are you waiting for?
Special Discount Offer
By Popular Demand, the
sale continues!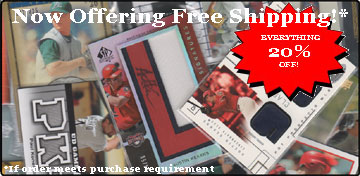 Now offering FREE* Shipping!